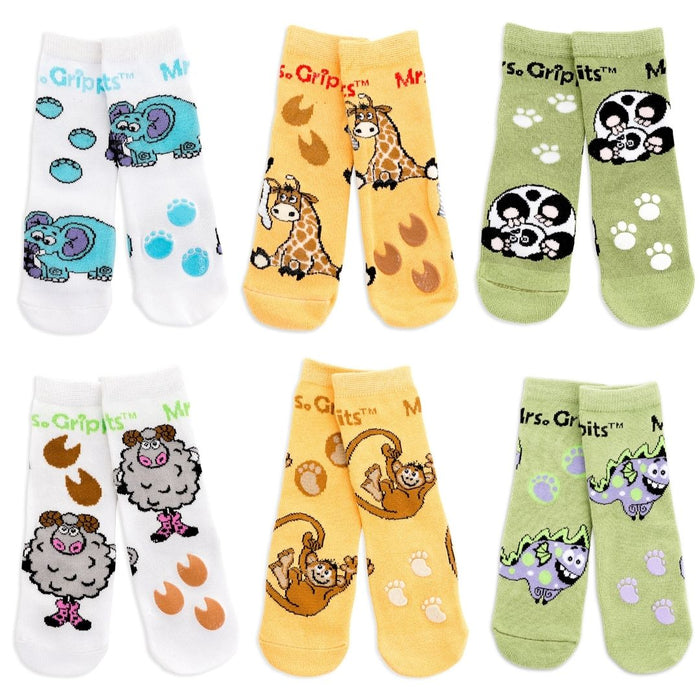 Baby/Toddler Bamboo Socks with Grips - 6-pack (1-4 years)
Super cozy bamboo
socks with non-slip PVC-free silicone grips. Oh, and just the cutest, fun little characters!!
Our non-slip grip socks provide an added layer of safety on slippery surfaces, especially for little ones who are still figuring out the whole walking thing.
Good for all seasons, non-allergenic, breathable and temperature-regulating
Safari Pack - Giraffe, Sheep, Panda, Elephant, Monkey, Monster 
Fairy Tale Pack - Pony, Pink Butterfly, Purple Unicorn, Pink Unicorn, Owl, Blue Butterfly
Dragon + Friends Pack - Elephant, Sheep, Panda, Monster, Dragon, Monkey
More Details
Shipping & Returns
80% bamboo, 15% polyester, 5% spandex. PVC-free silicone grips

One Size fits Girls/Boys 1-4 years


Machine washable

We do our best to ship out all orders within (1) business day. Generally, you have 14 days to return a product. Have a look at the specifics by reviewing our Refund Policy Page. If you're not happy for any reason, we will always do our best to take care of you. 
Proudly designed by local artists in Vancouver, Canada